The Chavin It Large game is built around the type of people you come across hanging around street corners, usually covered in all types of bling, they are of course the Chavs of this world! This is one of the colorful and comical fruit machines which you will find on offer in most UK Slot Sites that are hosting Microgaming software games.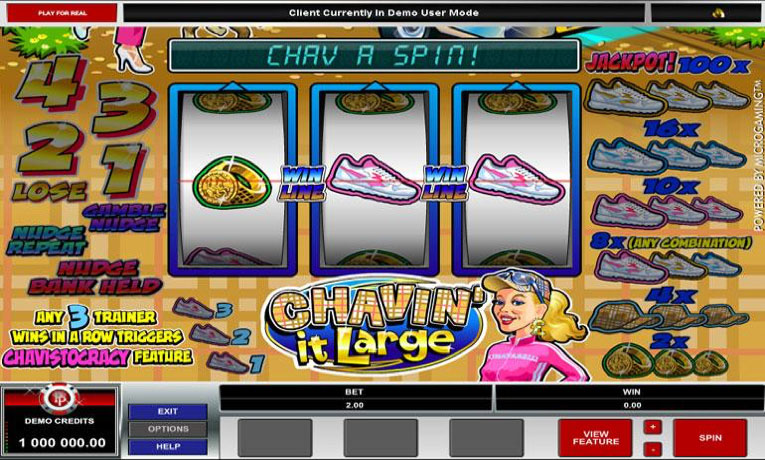 ABOUT THE CHAVIN IT LARGE FRUIT MACHINE
The Chavin It Large fruit machine offers players just one single payline and the bonus game is fairly unique in as much as you will only trigger it once you have spun in, three consecutive Trainer wins on the payline.
As is normal on most Microgaming fruit machines the coin levels are: 0.10, 0.20, 0.25, 0.50, 1.00, 2.00, 5.00, 10.00. The base game jackpot is 100 times your staked level and nudges and holds are offered as you play this fruity.
BONUS FEATURES ON THE CHAVIN IT LARGE FRUIT MACHINE
Chavistocracy Bonus Game –  To trigger the fruit machines bonus game you need to spin in, on the base game, three trainer symbols wins which much appear one after another, when this finally happens a new screen will appear and here you will be presented with seven different multiplier amounts these are x25, x50, x75, x100, x150, x200 and x250.
All you need to do is to hit the stop button as these amounts flash, which ever one you select is the amount your stake level will be multiplied by. You may also be awarded a further bonus game and that is the Win or Lose Repeater, and if awarded then you can have another go at winning a further multiplier value!
Nudges – One of the most popular features on Fruit Machines when you are awarded nudges you can then move selected reels downwards one at a time in the hope that by doing so you will be able to complete a winning combination on the payline.
Nudge Bank Held – This feature may be awarded if you have chosen not to use any nudges or have any left having nudges in a win, if awarded this light will illuminate and these nudges can be used at the completion of the next spin of the reels.
Nudge Gamble – During this randomly awarded feature you are given the option of trying to win further nudges, but you could also lose the nudge you have been given, so it is a bit of a gamble!
Nudge Repeat – If you have been awarded some nudges and have used them but have been unable to complete a winning combination then you may be awarded another set of nudges which you can then use in the hope of nudging in a winning combination, when awarded this light will illuminate along with the number of nudges that have been re-awarded.
Hold – The Hold feature simply allows you to choose any reels that you wish to lock in place for the duration of the next spin, ideally you want to be holding either matching symbols or indeed a winning combination.